---
E30.BMWdiy.INFO
E30 Mirror Repair
---
Prepared by VietSB
Modified 05.04.02



NOTE: Perform these steps at your own risk. All P/N's listed are a "best guess", so please double-check with your local dealer. These mods and repairs were performed on my US-Spec 1989 325i (12/88 prod date, M20/B25 engine) but there is no guarantee they will work on other E30's. These instructions are provided for entertainment purposes only!
---
THE GOAL: My mirror housing seemed a bit loose after a hit-and-run (probably a bicycle versus my car mirror...). Since it had nothing to do with the 2 primary mounting bolts, I decided to perform some surgery.
---
1. Remove the mirror glass by place a thin screwdriver in the hole on the underside of the assembly. There is a toothed-ring behind the mirror that need to be rotated about 5 degrees counter-clockwise to release the mirror glass. Be sure to catch the glass once the ring is rotated sufficiently. If you have trouble finding the teeth, you can tilt the mirror all the way up to see them, before tilting it back down to remove it.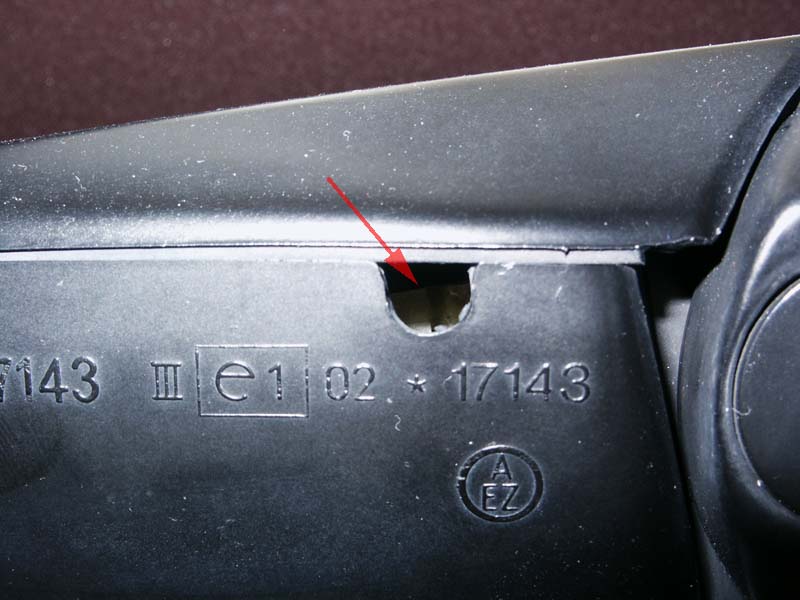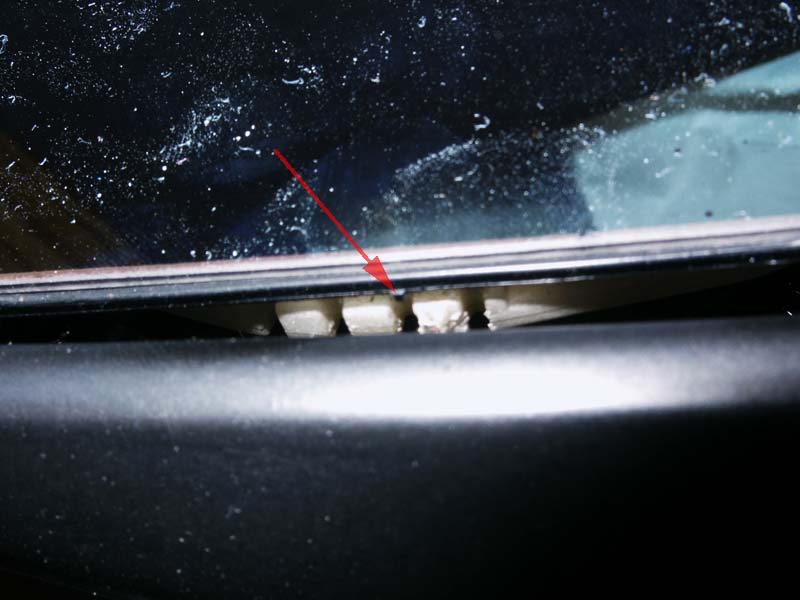 ---
2. Pull the inside mirror trim piece *straight off*. Be careful to pull evenly and slowly or one of the mounting pins might break off. For those of you lucky enough to have tweeter pods in the corners, I'm unsure how to remove them, but it should be similarly easy.
---
3. Remove the (2) bolts holding the mirror in place, while providing support so the mirror assembly doesn't fall. Disconnect the wiring harness and the mirror should be free.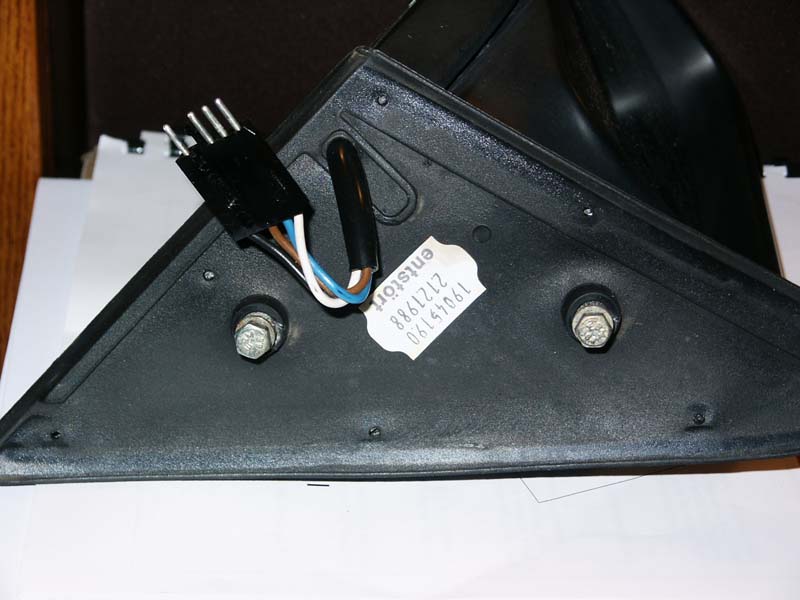 ---
4. Remove the (4) screws to separate the motor assembly from the back metal plate.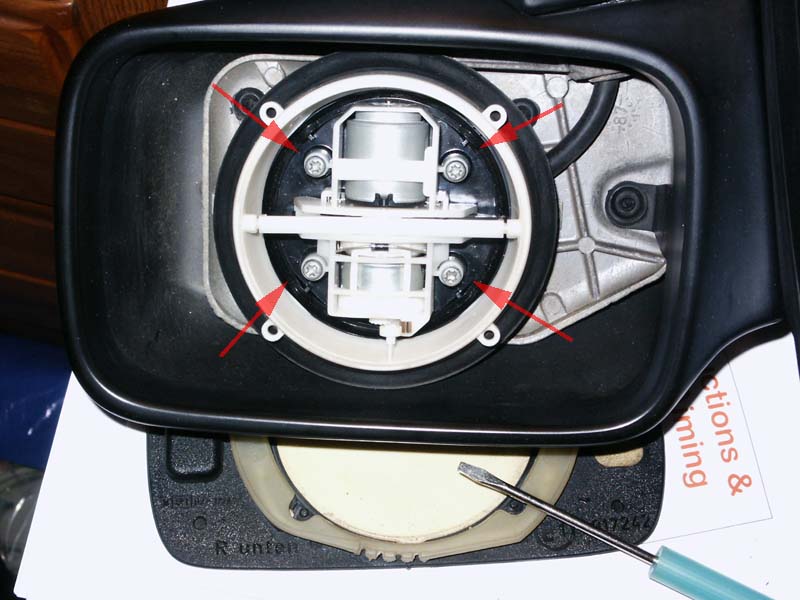 ---
5. If removal of the entire motor is necessary, use needle-nose pliers to carefully pull the (4) spade wire connectors from the back of the motor. There's no need to remember the wire positions, as it is labeled on the motor. Feed the wiring harness out the bottom and side of the mirror assembly.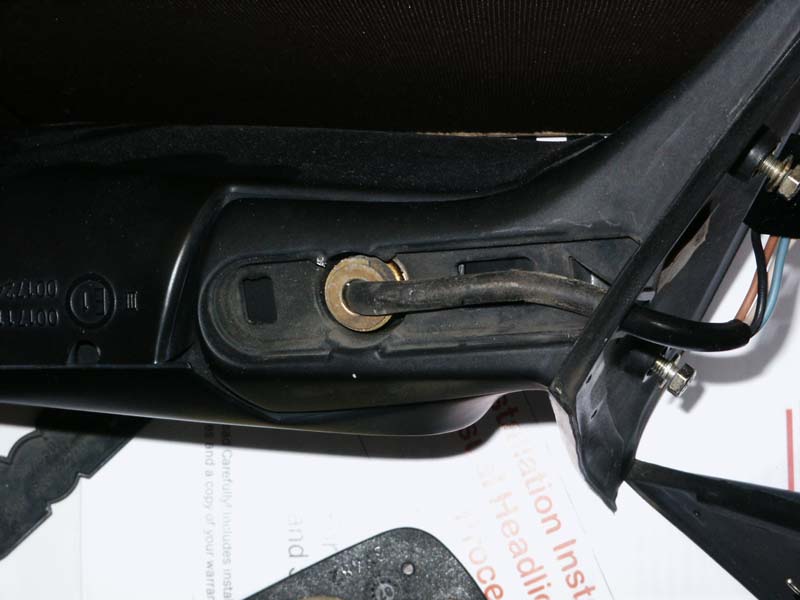 ---
6. Inspect the plastic welds for breaks and weakness. Clean all debris from the repair points. Use light pressure from a C-clamp (padded by a towel) to sandwich the metal plate to the plastic housing, and proceed to use a suitable epoxy to recreate the welds.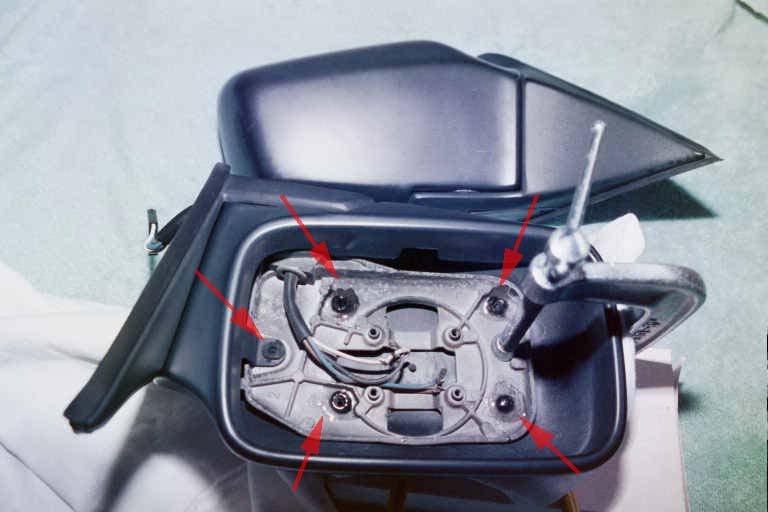 ---
7. Once the epoxy has set, test the strength of the repair by rotating the mirror housing around the base. If it seems adequately repaired, install the motor and wiring, mount the mirror assembly back onto the car, and reinstall the mirror glass (turning the ring clockwise).
---
| | |
| --- | --- |
| Questions? Comments? E-mail me: | . |
Click Here to return to the Main Menu.
---
Optimized for 1024x768 or higher resolution.
Copyright &copy Midnight Designs, 2002. All Rights Reserved. All images and registered trademarks are used to benefit and without intent to infringe on the holder. Contents Subject to Change Without Notice.